Kids Ministry
Dear Parents, we are here to help your children grow up in God's word and continue in Jesus!
Read this page to discover some important ways in which we love children.
Important Bible Passage: Deuteronomy 6:6-9 NIV

Moses said to the parents:

These commandments that I give you today are to be on your hearts."

– know them, believe them, apply them
Teach them to your children:

"Talk about them when you sit at home and when you walk along the road, when you lie down and when you get up."

– frequently
Remind your children:

Tie them as symbols on your hands and bind them on your foreheads. Write them on the doorframes of your houses and on your gates.

– repetition is the mother of learning

Children's Message: The children are invited forward for a simple message, or an object lesson related to the regular sermon; then they depart with a reminder and a treat.
Sunday School: After our amazing refreshment time at 10:15, the children and adults gather in separate classes from 10:30 to 11:30 to grow in God's word and be equipped to live for Jesus. Read our Bible Class and Sunday School brochure: click here
ABC Bible Verses: Children (and parents), memorize some key verses: click here
Helpful Resources: Since Bethlehem is a teaching church, we supply the children with age-appropriate books to help them grow up in Jesus.
Bible Basics Course: Youth in sixth, seventh, and eighth grade are encouraged to attend the pastor's two-year course to learn more about the Bible, the catechism, our worship services, and the teachings of our church in comparison to others.
Questions? Planning a visit? Let us know:
Children come forward for a sermon-related message!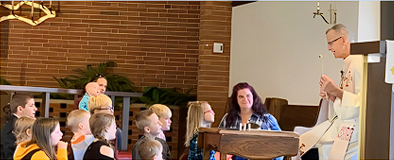 Since a day is coming when only knowing Jesus will matter, let us put Him first today!